Page - Kids & Myoko Childcare Red Warehouse
Kids & Myoko Childcare at Red Warehouse
Kids & Myoko Childcare: Our concept
We
love
having families and kids at Red Warehouse! As parents ourselves we've thought a lot about what kids like that will enable them to have a great holiday. It's a simple concept – if they are having an awesome time then parents will be enjoying themselves too!
Kids and Childcare Myoko Red Warehouse
What do our family guests think of our services?
"Great family ski trip!" –
Via Tripadvisor
Thank you so much for the very wonderful and hospitable stay at your lodge! We are a family of 4 with 2 very young boys (4 years and 6 months). The set-up of the lodge is perfect for families!

Robert, China
"Perfect Family Accommodation in Beautiful Myoko" –
Via Tripadvisor
The lodge is perfect for families with a wonderful common area/lounge, kitchen + a separate play room for the kids – which was priceless

Nerilee, Australia
"Best Family Holiday" –
Via Tripadvisor
Thank you for making our recent holiday so special (2 adults, 3 kids; 8yo, 6yo, 2yo). Hospitality above and beyond what I'd expected. Also, thanks for putting us in touch with the fabulous ski school and rental company in Myoko.

Pippa & Craig, Australia
Our Games Room at Red Warehouse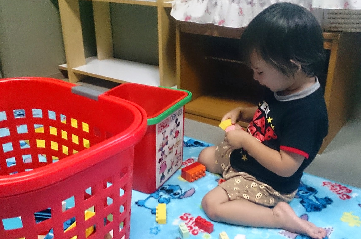 In the basement at Red Warehouse is a games room for kids of all ages! There's simply nothing else like it in Myoko. It's stocked with lots of fun toys, Play Station II, Myoko's largest foosball table, TV/DVD, movie projector plus loads of kids/teens books & DVD's in both English and Japanese.
The games room is completely separate from our communal lounge area so it doesn't matter if the kids get a little bit noisy while they're having fun and hanging out with other kids. Guests without kids also appreciate this separation.
Outside fun at Red Warehouse
Kids not skiing or taking a day off? There are lots of trips you can do. If you're hanging around the lodge we have a nice easy outside area adjacent to our car park to supervise children's snow play. We provide free sleds and snow play equipment to use as well.
Childcare at Myoko Red Warehouse
We don't have a formal childcare service available at the lodge. For childcare during the day we recommend the childcare service at nearby Myoko Snowsports (see details below).
In the evenings we may have an experienced staff member available to take care of your children (max. 4). This will need to be pre-booked and is not available for outside visitors.
Contact us to find out more detail and costs.
External Myoko Childcare
Myoko Snowsports have a childcare room in their Akakura Village shop which is only 2-3 minutes walk from Red Warehouse.
Their in-house resident professional Mrs Shigeko Inoue is a well known local identity who has over 25 years of experience in child care. The facility caters for children from 6 months old, with the day running from 8:30am – 16:00pm (lunch included if your child stays more than 4 hours). Cost for this Myoko childcare is 2,000 yen per hour and advanced reservation is requested. We are happy to help our Red Warehouse guests pre-book this service. Contact us for a reservation form.
Childcare Myoko: Kids Ski School
Need some help with the kids ski school or rentals? We can also help with ski rental and ski school. Contact us for a reservation form, fill it in, return it to us then we'll handle it all for you – or just book direct here.
Myoko Childcare: Kids play rooms
In the evenings or during off-days take a trip to Landmark Cafe in Ikenotaira Onsen with the family. There are two restaurants, an indoor and outdoor onsen, table tennis, billiards, darts, a gift shop, a crepe shop, a kebab shop, a convenience store, free wifi and 'Kids Land' – an adventure playground perfect for the under-5's Myoko childcare. And parents can even get a drink at the bar. If you ski at Ikenotaira Onsen that day you get discount!
There are also FREE children playrooms and outside play areas at each of the local ski resorts. These are not supervised so you will need to play ski tag with spouse, partner, relative, friend, etc. Talk to us when you get here and we'll let you know the exact location of each facility.
Any questions on Myoko childcare or our Red Warehouse services for families/kids? Contact us.
Important note: We do of course ask that parents/guardians keep their children adequately supervised at the games room, outside snow play area and within the lodge in general, especially the younger ones with toys that may not be age appropriate. We cannot be held responsible for any misfortune occurring to unsupervised children.